Hexagon Geospatial's M.App Enterprise provides a unified geospatial platform that enables users to create applications that suit the specific needs and requirements of all users; from managers to GIS experts and field workers. M.App Enterprise caters to large-scale deployments and features an architecture that utilises a centralized GIS for all stakeholders to work collaboratively.
A critical question driving the choice of geospatial technologies within the defence sector has always been, how to get critical information to those who need it most? With developments in cloud computing and Software-as-a Service platforms military personnel are now able to access imagery data and derived intelligence directly through secure online visual intelligence platforms, only needing a browser to do so. Users can then interrogate this imagery through the platform or receive specialised analytics. This evidence-based insight enables better informed decisions and can deliver a telling military advantage.

Delineate areas of interest and feature count – shown in M.App X dashboard
M.App X, Hexagon Geospatial's military cloud-based image exploitation platform is the most evolved solution providing this functionality, allowing both deployed personnel and distributed decision makers to disseminate, share and collaborate on GEOINT projects. Highly flexible, with unique capabilities allowing the rapid development of specific data processing and analytics flowlines that can be easily distributed. M.App X enables relevant information to be created and delivered - when and where it's needed most
M.App X is an enterprise solution that fosters geospatial tradecraft creation, common usage and secure sharing of the latest intel; ultimately making the latest information and functionality accessible to those who need it most, wherever they are deployed. Built on Hexagon Geospatial' s decades of experience in providing ERDAS IMAGINE's image analysis capabilities, M.App X contains industry-specific tools and workflows for the GEOINT community and security organisations.
Hexagon Geospatial's spatial modelling architecture is at the heart of M.App X. A revolutionary approach to visual programming, spatial modelling provides near-immediate feedback and previews for analysing data while taking location into account. M.App X enables analysts to graphically model raster, vector, and point cloud processing workflows to create automated processes that can be executed rapidly and securely. The solution ultimately delivers integrated information products that ensure the right individuals can make timely decisions.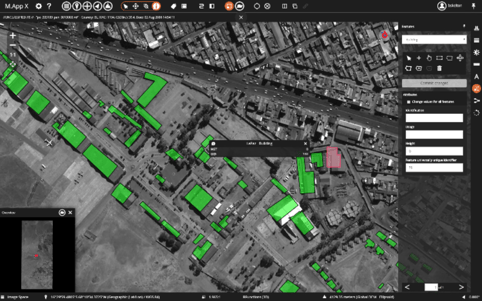 Display, query and edit features from a WFS-T source
Capturing geospatial tradecraft and sharing it as dynamic services across the organisation is easy in M.App X. Image exploitation processes are performed on the M.App X server and displayed to the end user in a rich web-based client application, eliminating the need for constant upkeep of multiple individual computing workstations, in which each must process data.
Why choose M.App X to deliver GEOINT?
Immediate savings – Unified and centralized software management reduces administrative costs. Licensing costs are also reduced as M.App X provides all the core requirements in a single platform.
Faster decision making – M.App X's unique spatial data modelling environment provides near-immediate feedback and previews so you can analyse and geo-fuse data and events in real time to provide actionable intelligence.
Customisable experience – The geoprocessing environment is also extensible, allowing domain experts to plug in their best-practice capabilities within a common user experience.
Efficient use of system resources – This cloud-based technology helps defence agencies move away from expensive legacy applications and hosting, providing robust support for remote and mobile users.
Disseminate and share easily – Field-workers and decision makers can share intel and collaborate on projects through cloud-based technology.
In summary, M.App X incorporates all the geospatial and imagery analysts requirements in a streamlined, easy-to-use environment; simplifying the viewing, analysis, and reporting of geospatial information. It offers simplified data access, defence workflows, and on-premises (private cloud) or public cloud hosting to provide centralized storage and computation. All the required geospatial software for a defence user is consolidated in one place, greatly simplifying version management and control. The rich web-based client runs in modern browsers, and the workstations deployed can range from desktop to laptop to tablet.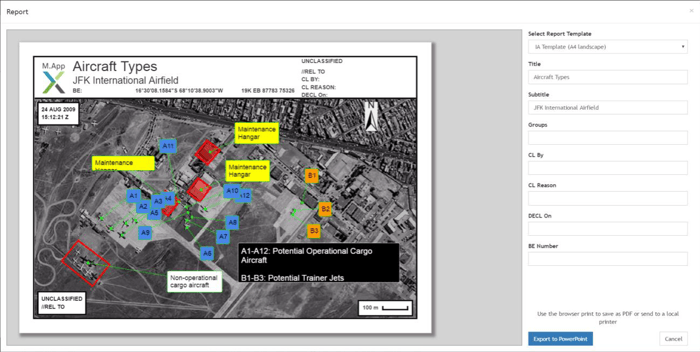 Export your data analysis in M.App X's report function
For more information on M.AppX visit our website or contact us at hello@geospatial-insight.com to arrange a technical consultation.