Two case studies comparing the buying habits and the effects of the different governmental approaches to the Coronavirus pandemic lockdown in the UK and France illustrate with startling clarity the impact on food retailers. 'RetailWatch' has captured and analysed proxy footfall data, derived from satellite images and using AI and machine learning capabilities to discover results that buck the current public perception of the large grocery chains and show how both the UK and French retailers are now seeing an increase in footfall despite stringent lockdown measures. This finding could suggest 'lockdown fatigue' and also evidence of larder re-stocking as the social distancing measures are extended into May.
By applying machine learning models to satellite imagery, RetailWatch automatically detects and counts objects to a proven level of accuracy. Taking the number of cars in the (uncovered and single-storied) parking lots of food retail stores (in this case Tesco, Sainsbury's, Marks & Spencer and Morrison's in the UK and Carrefour, Casino and Metro in France) as a proxy for footfall, Geospatial Insight observed some fascinating behaviours amongst British and French shoppers, as shown on the graphs below.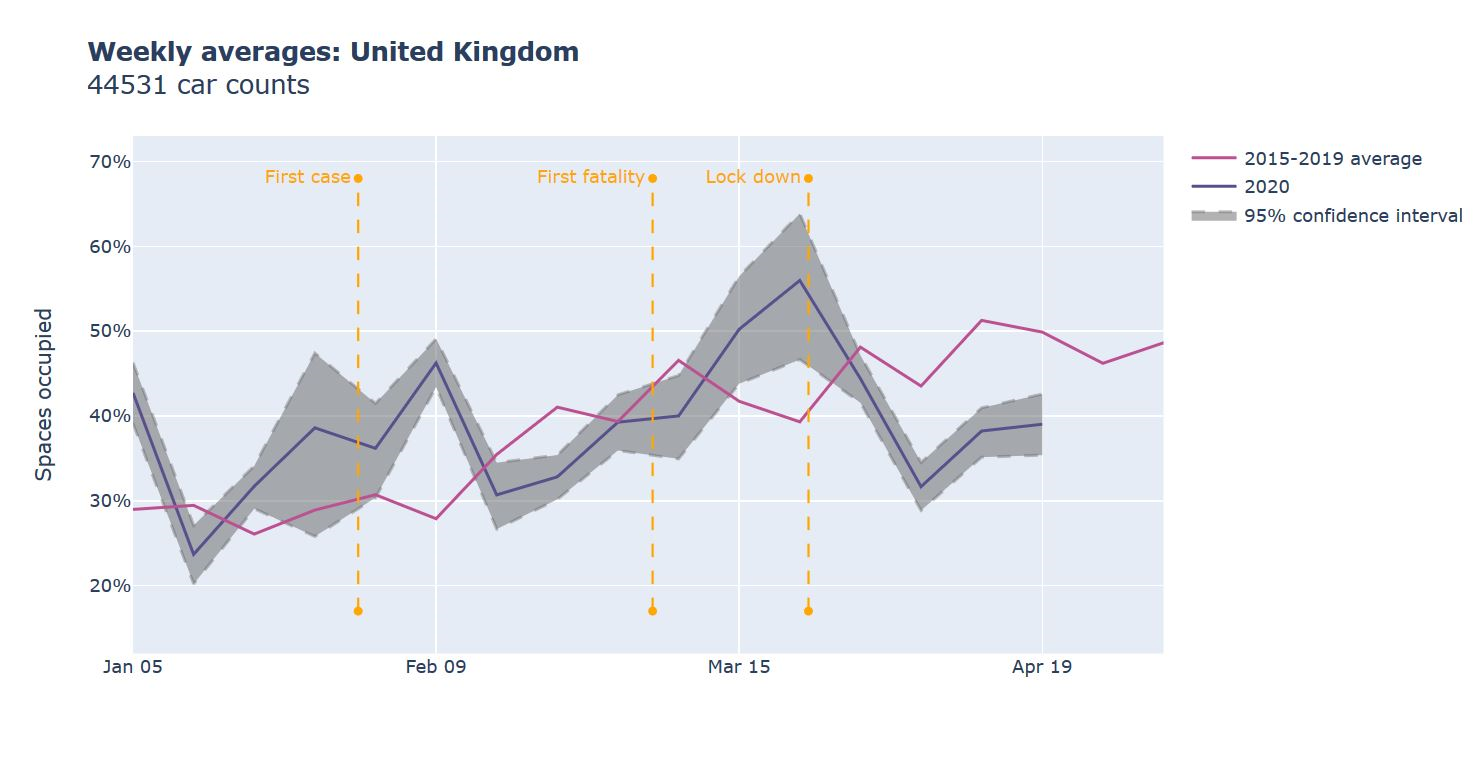 Impact of the lockdown on the UK
Leading up to the first positive COVID-19 case in the UK (January 31) we see increased footfall to UK food retail stores. The announcement of the first case led to a sharp spike, up 18% compared to the national averages from previous years. By mid-February, the footfall - having dropped rapidly in the weeks prior - is on a gradual increase. According to a Nielson study on the impact on shopping habits of COVID-19 on the UK, this increase can be attributed to a brewing crisis sentiment, as shoppers stocked up on cupboard staples, medicines, cleaning supplies, canned and fresh foods. UK shoppers even ended up buying more than they first planned, with sales of reusable shopping bags shooting up 177% in this period. After the first COVID-19 casualty was announced (March 5), another large spike in the number of shoppers can be observed - possibly motivated by panic buying and stocking up of 'pandemic pantries'. By mid-March, the increase in the number of UK shoppers has decelerated, peaking right before lockdown was announced (March 23) - up 17% from the average number of shoppers year-on-year. However, once the lockdown is put in place, there is a steep decline, with the number of UK shoppers at food retailers in early April 2020 down 24% from its peak. However, as of last week, we see the trend reversing and footfall starting to increase. The UK is currently 11% down on normal trading levels for this time of the year – but given the strenuous measures to combat Covid-19, this is in itself still quite remarkable. Furthermore, we see this trend replicated in France – as the graph below shows.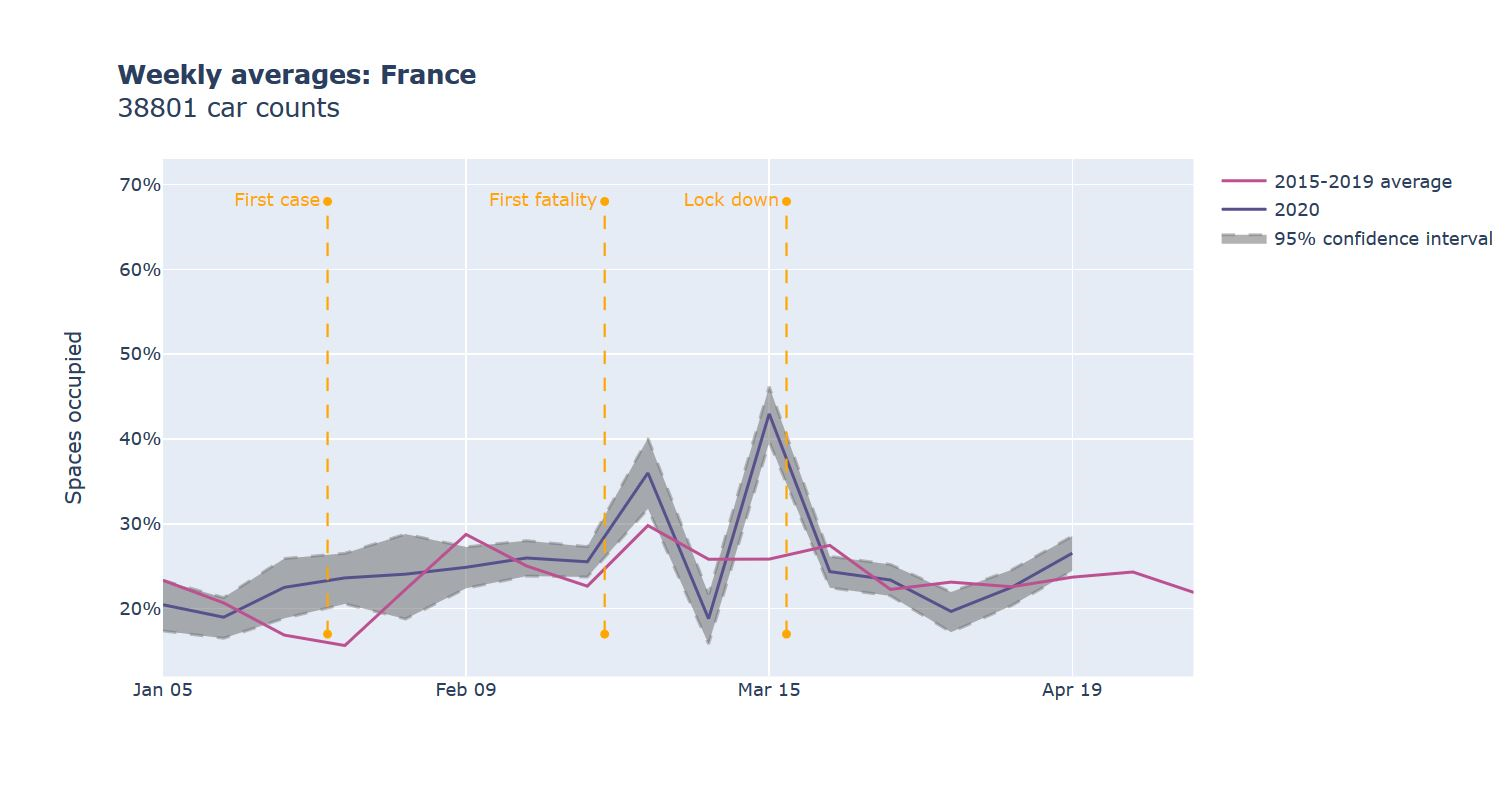 Impact of the lockdown on France
COVID-19 cases were identified in France a week earlier than in the UK, on January 24. Late January to early February is typically a period of low footfall, but the announcement of the first positive case saw a 4% increase in footfall compared to the average from previous years. However, the announcement of the first case didn't have as significant an impact as it did in the UK, with an increase of just 6%. The first significant spike in shoppers apparently followed the announcement of the first French casualty (February 14), but then the number of shoppers drops sharply, seemingly following the announcement of strict lock-down measures in neighbouring Italy. A sharp increase in footfall follows, however, beginning in early-March, up by 24% from the first to the second week. Much like the UK, the number of French shoppers peaked right before national lockdown was announced (March 16). On April 13, it was announced that the lock-down period would be extended until May 11, and this appears to coincide with a rally in numbers of shoppers visiting food retailers. Proxy footfall in France is now right back up to normal levels expected at this time of the year, despite the stringent lockdown measures to fight the pandemic.
What conclusions can we draw for retailers and the investment community?
By leveraging parking lot occupancy as a proxy for store footfall, retailers gain an invaluable metric to influence business decisions. By analysing footfall data, managers can optimise their staffing, identify high-performing zones and gauge the effectiveness of marketing and merchandising efforts.
These metrics can also be used to validate market fundamentals and alternative insights, enabling investors and managers alike to make evidence-based and data-backed investment decisions. Data needs to be uncorrupted and unbiased in order to be useful. By applying machine learning models, RetailWatch eliminates human error from data collection and analysis, supplying retailers and investors into the sector with data in a simple, time-stamped and easily normalised format.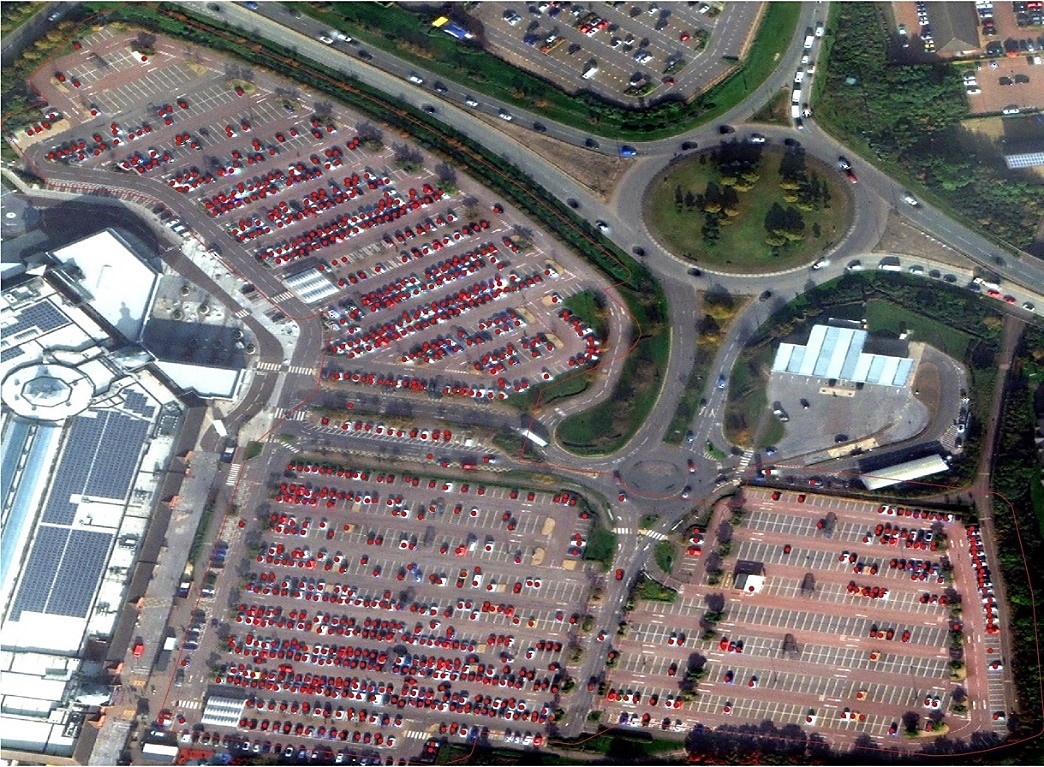 Example automated car count from satellite imagery Satellite image ©2020 Maxar Technologies
The conclusions that can be drawn from these figures are:
As is well documented, the amount spent by shoppers in grocery stores increased in both the UK and - to a much lesser extent - France in the period after the pandemic reached Europe and just prior to the lockdowns.

It appears that over the last few days both the UK and French retailers are experiencing a marked uptick in footfall - a surprising finding given the strict lockdown measures currently in place in both countries. In France particularly, footfall numbers are in line with the average for the time of year.

UK retailers, although still down by 11% from this time last year, are seeing a rally in sales.

Could this denote a 'lockdown fatigue' starting to set in amongst shoppers? Or a need to restock 'pandemic pantries' as the lockdown continues into at least next month?
Follow us on Twitter or LinkedIn to see our RetailWatch weekly updates.